Tick
- The tick is a bloodsucker
The tick ​​is a mite, which together with spiders, belongs to a group of small animals called arachnids. Arachnids have eight legs, whereas insects have six legs. The tick has an exciting life cycle, which consists of four stages; egg, larva, nymph and adult ticks. Ticks ​​live by sucking blood from other animals. The larvae suck blood from mice, and it is from mice that they gather up the bacteria that they can later transmit to humans. After the larval stage, the tick becomes a nymph, which sucks the blood of larger mammals; deer are the most common. It is also the nymphs that often suck blood from humans. The adult female has to suck blood once again to get the energy to produce the 2,000-3,000 eggs that she will later lay on the forest floor. The thick swollen ticks that can be found in the fur of dogs and cats are adult females that are ready to lay eggs.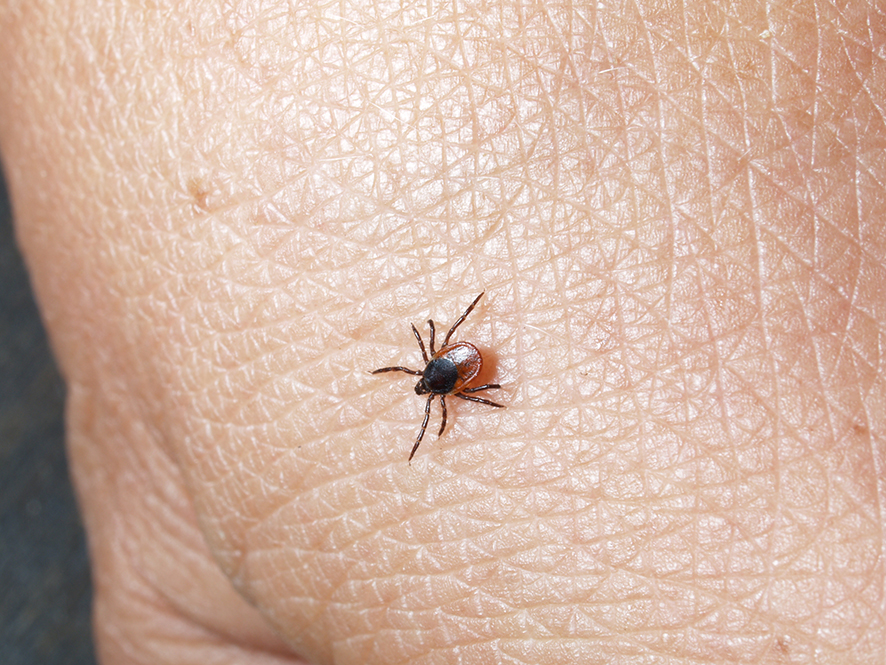 Denmark's most dangerous animal
Even though it is only a few millimetres long, the tick has been called Denmark's most dangerous animal. However, it is not the tick itself which is dangerous. Approximately 20% of ticks carry bacteria that can be transmitted to humans. The most well-known bacterium is Borrelia, which can damage the nervous system if left untreated.
How to avoid becoming ill from a tick bite
You can avoid tick bites by wearing long trousers, wellington boots and long-sleeved tops when you are out in the nature. If you are bitten by a tick, it is important to remove the tick within 24 hours. The Borrelia bacterium is transmitted from the tick's gut, and it can take up to 3 days from when the tick bites to when the bacteria is transferred. Wash the bite area with soap and water. If the bite area becomes swollen and red, you should seek medical attention. Treatment with penicillin may prevent the disease from developing.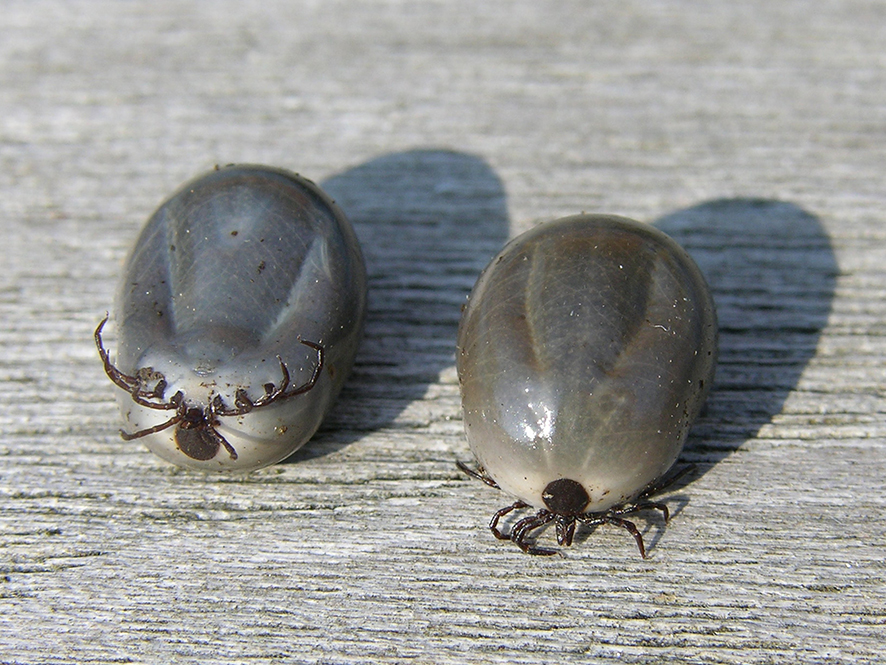 Facts
The tick nymph is a few millimetres long. With a blood-filled abdomen, the adult female can become 1 cm long. Deer are the preferred host for nymphs and adult ticks, and therefore there are many ticks in areas with many deer. Ticks prefer humid conditions and are often found in forests, scrubs, meadows and bogs.