Peregrine falcon
- Fastest in the world
The peregrine falcon is the fastest animal in the world. It can nosedive after prey at a speed of over 300 km/h. It feeds on other birds that it catches in the air. The female is almost twice as large as the male and can take crows, ducks and pigeons of up to 1 kg.
Popular with falconers
Ever since the Viking time, falcons have been used for hunting. Falconry was traditionally a form of hunting for the upper classes, and today is particularly known in the Arab countries. The peregrine falcon has been a popular falcon for falconers, and therefore the price of adult falcons, chicks and eggs has been very high. In Denmark, the peregrine falcon has always been a very rare breeding bird, and in 1972 the last Danish brood of peregrines was robbed by German falcon thieves who probably wanted to sell the young on to falconers. The peregrine falcon started to breed again on Møns Klint in 2002, after 30 years of absence. Today it also breeds at Stevns Klint and on Bornholm.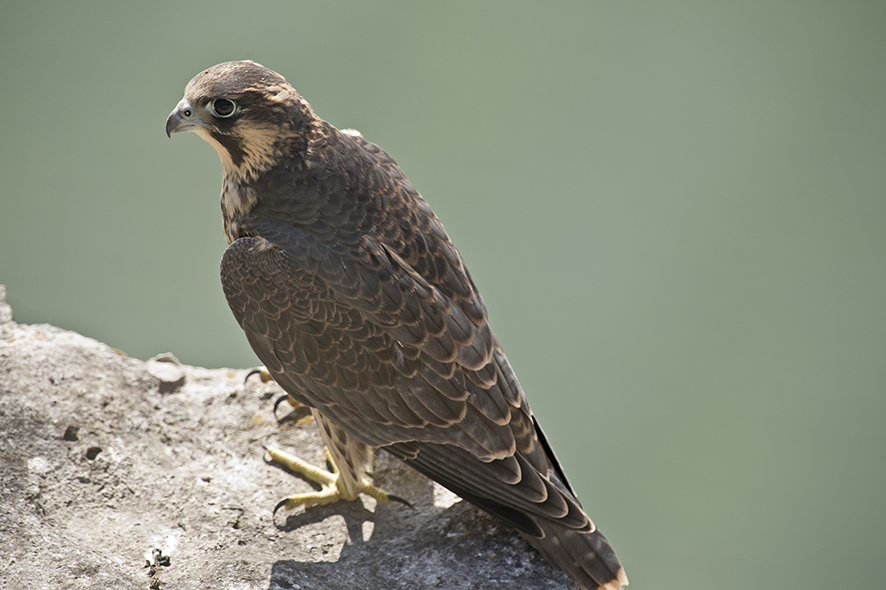 Breeding bird in the Wadden Sea?
The peregrine falcon typically breeds in mountain areas, where it builds its nest on a rock shelf. Therefore, the species is still very rare in the flat Danish countryside. In recent years, pairs of peregrine falcons have been registered that have built their nest on the ground on small uninhabited islets in the German and Dutch Wadden Sea. As the peregrine falcon is a frequent migratory and winter guest in the Danish Wadden Sea area, there may be a slight hope that the species will settle down as a breeding bird.
Facts
The adult peregrine falcon has a steel-grey back, striped black/white underside and a distinct black beard stripe. It is 40-46 cm long and has a wingspan of 95 to 115 cm. It feeds primarily on birds that it catches in the air. It is widespread on all continents and in Europe it is primarily found in mountainous areas. In Denmark, it is a rare breeding bird, but is a fairly common migratory and winter guest. About 10-20 peregrine falcons winter in the Wadden Sea every winter.