Eurasian skylark
- Skylark with X-factor
If the skylark competed in the birds' X-factor competition, it would have a good chance of getting into the final. Its song is light and easy with an incessant stream of trilling, chirping sounds, whistling and quick repetitions. It hovers almost motionlessly in the air with whirring wings, while it sings and a chirping lark against a blue spring sky is the best sign of spring. That is the reason the lark often appears in the Danish songbook, like the harbinger of spring, as in the song "Welcome lærkelil", written by Chr. Richardt in 1868.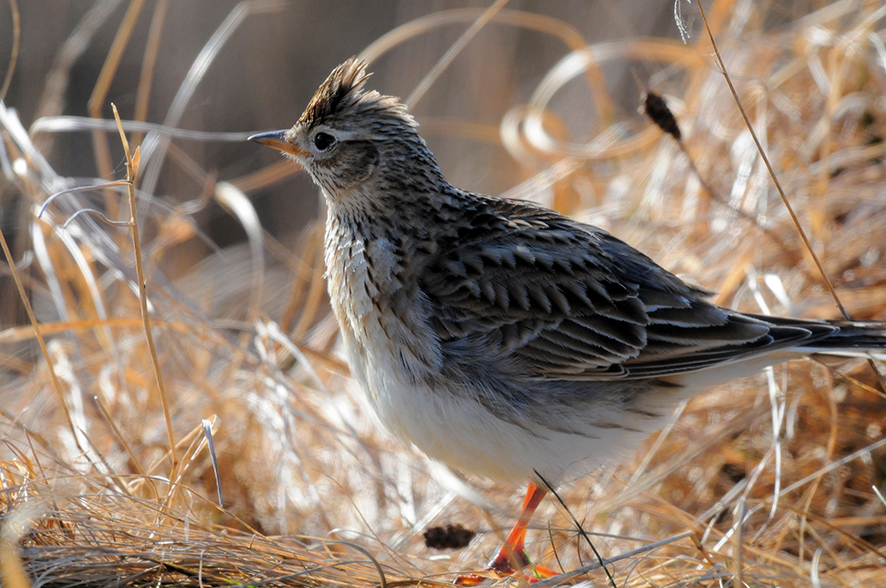 Lark patches help the lark
After blackbirds and chaffinches, the skylark comes in at third place as Denmark's most common bird. In the 1970s, up to 1.5 million skylarks bred here in Denmark. Skylarks live in the countryside and its food consists of insects, weed seeds and plants. Since the 1970s, the population of skylarks has declined throughout Europe. In Denmark, the population has more than halved. The high prevalence of winter crops means that in early spring the grain fields get a high and dense plant cover, which can make it difficult for the skylarks to find food. This is the reason why fewer larks today have fewer chicks. Experiments have shown that where farmers have made uncultivated spots in their grain fields, they get more skylarks in the field. The uncultivated patches serve as a landing site and foraging area for the skylarks.
Facts
The skylark is 18 cm long and has a wingspan of 30-36 cm. The plumage is mottled brown in colour, with a lighter underside. The brown colours create a good camouflage when lying on the ground and brooding. It can pull its crown feathers into a small peak. It lives in the open country in fields and meadows, and likes to nest on the ground far away from trees and hedgerows where magpies and crows can keep an eye on it.