Northern pintail
- The pointed-tailed duck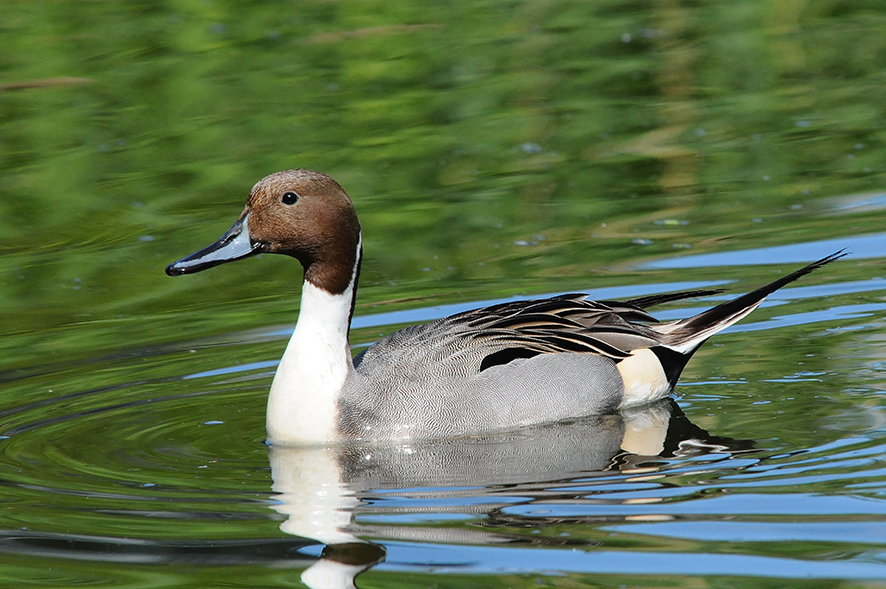 The northern pintail got its name from its tail, which, particularly in the male, is very long and pointed. The pintail is a rare breeding bird in Denmark, but especially along the west coast, it is numerous in migration and also as a winter visitor. At the Wadden Sea, you can experience large flocks of pintails on the headland and at the sluices at Sneum, Kongeå, Kammerslusen, Rejsby, Ballum, Emmerlev and The Forward Dike.
"Bird-Mortensen" ringed the northern pintail on Fanø
The famous bird researcher H. Chr. C. Mortensen, was the first in the world to put the ringing of birds in a system. In the early 1900s, he conducted a large ringing in the bird decoys on Fanø. In the bird decoy, he lured wild ducks to land on a small lake from which he excavated long "tentacles". From there, he lured the ducks into fishing nets, where they could be caught. The method was used to capture the ducks that were sold to game dealers. The men working the nets could earn a good fortune this way. In the years 1908-1910, "Bird-Mortensen" bought 320 pintails, which were ringed and later released. Reports came back on 67 pintails, where the majority had flown south to the Netherlands, Belgium, France and countries around the Mediterranean. A few were reported from breeding areas in Sweden, Finland and North Russia. The knowledge that ringing has provided about the migratory birds' migration routes, roosting areas and winter areas are crucial to ensure the species can be protected in their main places of stay.
Facts
The northern pintail is a fairly large dabbling duck, with the male species having a length of 66 cm, which is slightly larger than the female at 56 cm. The wingspan is 80-95 cm. The male's breeding plumage has quite a distinguished colour, with a long white neck that sends a white stripe up in the brown head. The female, like the mallard is predominantly brownish, but it also has a slightly longer tail than other duck species. The pintail feeds on aquatic plants and small aquatic animals like freshwater snails and worms. They can also eat corn waste on harvested stubble. In Europe, the prevalence is mostly north-easterly, but a scattering can also be found in Central and Western Europe.