Western yellow wagtail
- Fans with its tail
The yellow wagtail's name alludes to the bird's characteristic habit of fanning with its tail. In Denmark, the white wagtail is very common and widespread throughout the country. The yellow wagtail is rarer, but it is frequently observed in the bog and tidal meadow areas by the mouth of the river Kongeå. There are many breeds of the yellow wagtail. The race, which breeds in Denmark, is called the western yellow wagtail. It is known by the strong yellow belly and olive green back. The male has a grey head with bright eyes and beard stripe. The female is a paler yellow, with a brownish back.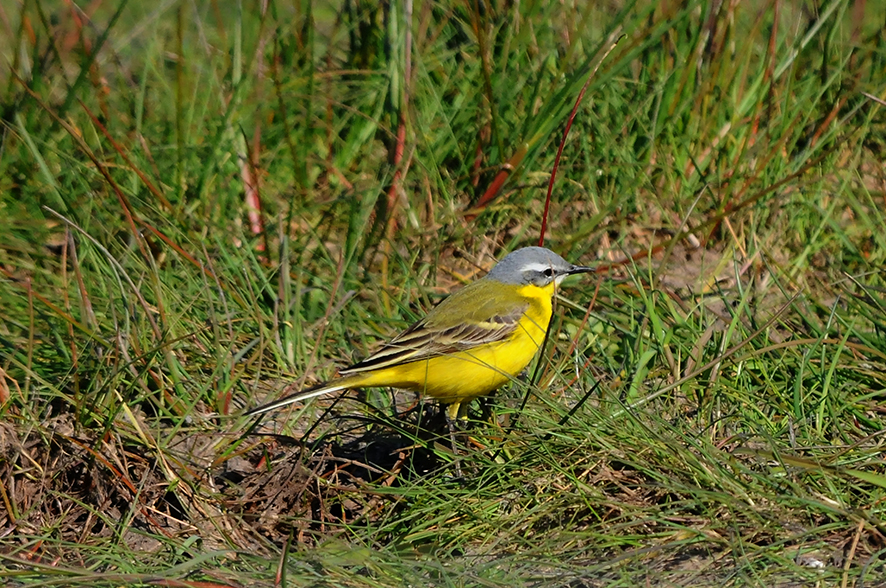 Dung is good for the yellow wagtail
The yellow wagtail prefers to breed in meadows and tidal meadows with short vegetation. Grazed areas with cattle keeps vegetation low and the cattle also contributes with food for the yellow wagtail and its young. The dung flies attract dung flies, which are one of the yellow wagtail's favourite foods. The yellow wagtail can also catch insects in the air, where it uses its long tail to balance. In Denmark, the yellow wagtail has declined as a breeding bird due to overgrowth and drainage of its preferred habitat.
Facts
The yellow wagtail has the same size and body shape as white wagtail. It is 17 cm long and has a wingspan of 23-27 cm. It is widespread in most of Europe, where there are several different races. It is particularly the male's head markings that vary. In Denmark, it breeds in meadows and tidal meadows, and the largest populations are found along the west coast of Jutland and in the Tipperne and Vejlerne nature reserves. The yellow wagtail feeds on insects which it catches on the ground or in the air.