From Foldingbro to Frihedsbroen
The route is 10 km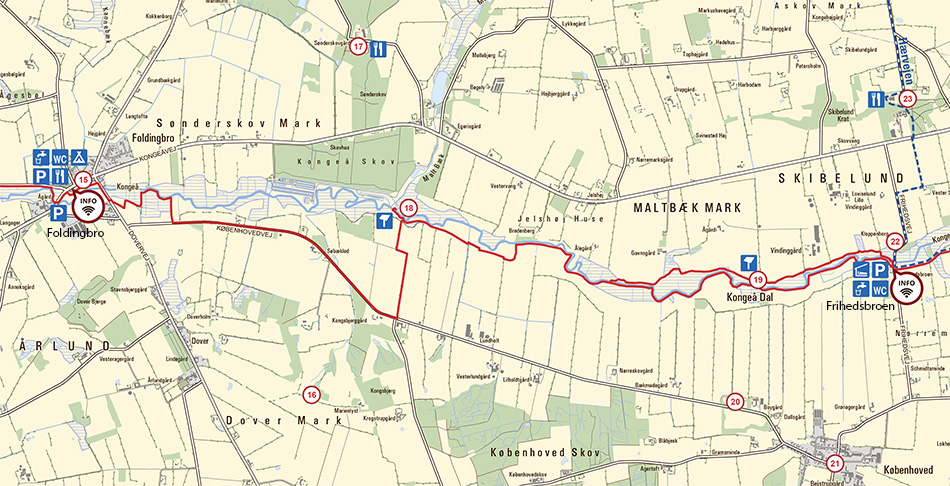 Start the trip opposite Kongeåkroen, just west of the campsite. Here you will find a digital information display with free Wi-Fi and information about the rich nature and history of the Kongeå area. You can also pick up a folder or download a map and APP for your smartphone.
Follow the path behind the inn on the other side of the road.
The Reunification Stone in Foldingbro (15)
In Foldingbro, you will go past the Reunification Stone. By the stone you will find picnic tables and benches, from where you can enjoy a wonderful view of the river. From here you can also see Karin Lorentzen's concrete seat sculpture at the bottom of the reunification mound.
The cannon defence line (16)
Follow the Kongeå path eastwards or take a detour to the village of Dover, 2 kilometres south of Foldingbro. Here you will find a cannon line, which is part of the Gudrun defence from World War II.
Sønderskov Manor (17)
By Kongeåens Dambrug (fish farm), you can choose to take a detour to the manor Sønderskov Hovedgård, which is located about 2 kilometres north of the river. The main manor house is home to the regional museum, baroque gardens and a restaurant.
The Junker Weir (18)
Kongeåens Dambrug is located on the north side of the river. At the farm are the remains of the Junkerske Stemmeværk (the Junker Weir) from the 1600s. The weir initially supplied water to an eel farm and later for the irrigation of agricultural land.
Bridge over the river
Approximately two kilometres from the fish farm, you will come to a wooden bridge. From here you can either choose to go east on the north or south side of the river. After about 3 kilometres, the path meets againat the rest area by Frihedsbroen.
The house called Friheden (22)
North of Frihedsbroen is the house called Friheden ('Freedom'), which was built by the large farmer Hans Diderik Kloppenborg in 1870. Kloppenborg was a pro-Danish North Schweswiger and a known opponent of the politics that the Prussionas had introduced in Schleswig. In the 1860s, when he felt that the soil was burning under him, he built the place of refuge Friheden, north of the border
.
At the parking area by Frihedsbroen you will find a digital information display with free Wi-Fi. Here you can read about the rich and exciting nature and history of the Kongeå area.