From Frihedsbroen to Knag Mølle
The route is 4.1 km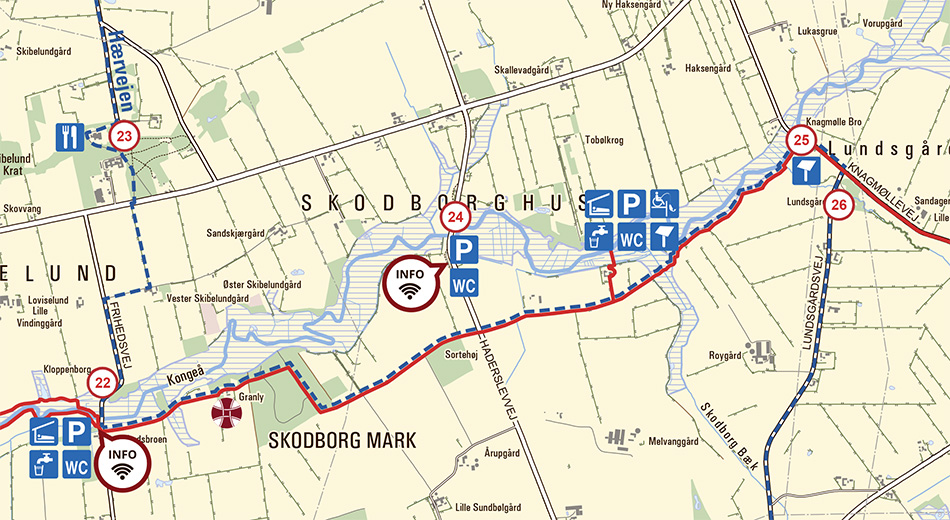 You can park at Frihedsbroen and use the facilities which include shelter area with 2 shelters, toilet, campfire area and picnic table and benches. There is also a digital information screen with free Wi-Fi, where you can read about Kongeåen's rich nature and history, as well as download a map and APP to your smartphone.
From Frihedsbroen follow the Ancient Road Hærvejen to Knag Mølle (Knag Mill).
Skibelund Krat
From Frihedsbroen you can take a detour to Skibelund Krat, which is situated 1.7 kilometres north of the bridge. It was once an important meeting place for Danish-minded North and South Jutlanders.
Hostel
If you follow the path towards the east, 700 metres after Frihedsbroen you will come to the hostel 'Kongeå Hærvejsherberg', where you can stay overnight. From here the route goes on a dirt track through Sundbøl Plantage.
Skodborghus Castle
When you reach the Haderslevvej, the path continues straight across the road. You can also choose to make a detour to visit the the memorial stone of Skodborghus Castle, which served as a border inspection post from 1864 -1920. You will find the memorial stone about 600 metres north down Haderslevvej. In the parking area at Skodborghus, you can find another digital information display and a toilet.
Vejen Fodboldgolf
The route goes past Vejen Fodboldgolf (Vejen Football Golf). Drop by and enjoy the amazing view from the fishing platform down by the river You can also stay overnight in a large covered campfire area or enjoy your flask of coffee under a large open shed.
Hermansens Høj
Then the route will take you over the mound known as Hermansens Høj. The mound is a memorial to the schoolteacher K.M. Hermansen, who played a particularly active role in the local association. His son, Knud Hermansen, wrote the well-known series of Søren and Mette books.
Knag Mølle
A little further on you will come to the water mill Knag Mølle, which is beautifully situated by the river Kongeå. Knag Mill was built around 1780. The mill wasoriginally a corn mill, but in 1830 the mill was converted into a bone meal mill. The mill has a large undershot wheel and a well-preserved mill machinery. Knag Mill is the only watermill in Denmark, where the meadow irrigation channel goes in underneath the building.