From Knag Mølle to Fårkrog
The route is 5 km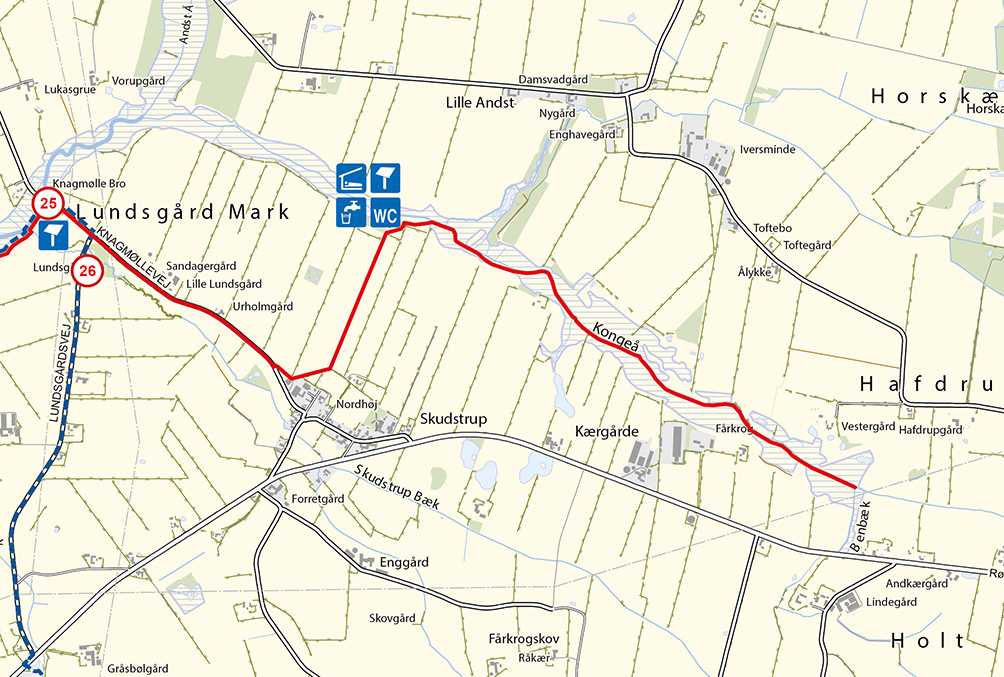 The route starts at the water mill Knag Mølle and follows Knagmøllevej along Skudstrup Bæk. There is an information board at the mill.
Knag Mølle (25)
Knag Mill was built around 1780. The mill was originally a corn mill, but in 1830 the mill was converted into a bone meal mill. The mill has a large undershot wheel and a well-preserved mill machinery. Knag Mill is the only watermill in Denmark, where the meadow irrigation channel goes in underneath the building.
The domain farm Lundsgård (26)
South of Knagmøllevej is the domain farm Lundsgård. The farm was one of the domain farms that was acquired by the Prussian domain department in 1900 with the aim of Germanising the area.
Shelter area
From Knagmøllevej, you follow a dirt track down to a clay pigeon shooting ground. At the shooting ground you will find a shelter area offering overnight facilities, picnic table and benches, toilet and water.
From here you walk down into the valley through the meadows. The river Kongeå is just a little river here with a narrow river valley and the route takes you through several flap-closure gates on the way into and out of horse paddocks. The route ends at Fårkrog by the watercourse Benbæk, which is the border of Kolding Municipality.