Round trip over Frihedsbroen
The route is 6.8 km.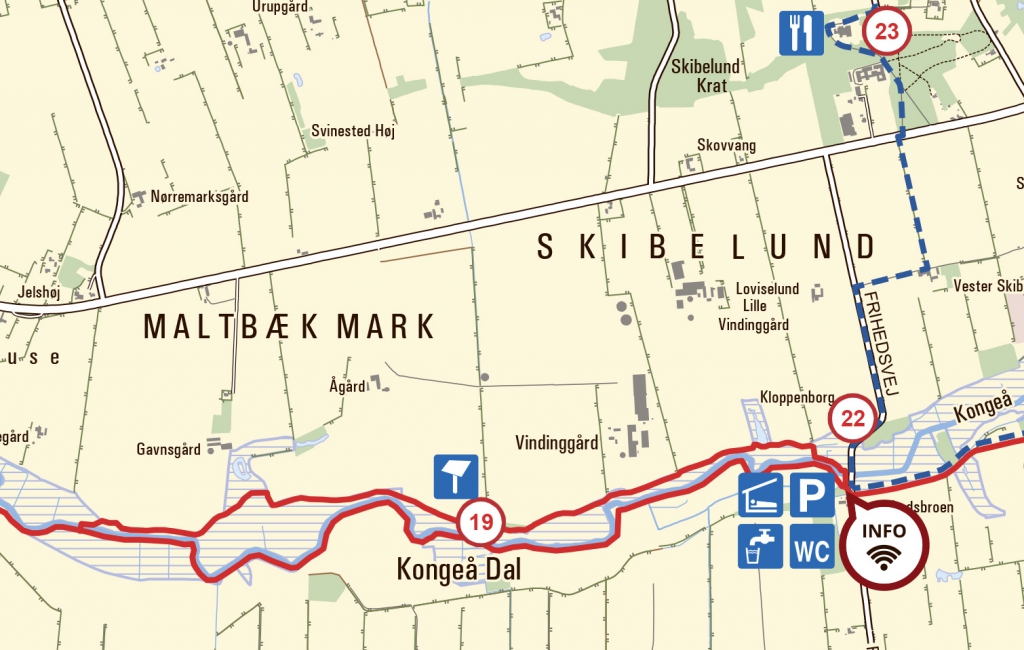 From the parking are at Frihedsbroen, you can start a round trip of 6.8 km, where you end back at Frihedsbroen again. By Frihedsbroen you will find a digital information display with free Wi-Fi, where you can read about Kongeåen's rich nature and history and download a map and APP for your walk. The site also offers 2 shelters, picnic table and benches, toilet and water.
Start your walk by heading west across the meadows on the south side of the river. The path stays close to the river Kongeå all the way. Once you have crossed the wooden bridge over the river, the route heads back to the river's north side. The route takes you through grassland slopes on the sides of the river valley, from where you can enjoy fabulous views of the beautiful landscape.
The rune stone (19)
On the north side of the river, about midway between Frihedsbroen and the wooden bridge over the river Kongeå, in 1987 a farmer found a very large rune stone in his field, which dated back from the Viking Age. It is exhibited today at Sønderskov Museum.
The house called Friheden (22)
Close to Frihedsbroen lies the house called Friheden ('Freedom'), which was built by the large farmer Hans Diderik Kloppenborg in 1870. Kloppenborg was a pro-Danish North Schweswiger and a known opponent of the politics that the Prussionas had introduced in Schleswig. In the 1860s, when he felt that the soil was burning under him, he built the place of refuge Friheden, north of the border.
Red and white railings
Note the red and white railings of the bridge. The colours of the Danish flag are used in many places along the river to show allegiance to Denmark.
Skibelund Krat (23)
It is about 1.7 kilometres from Frihedsbroen to Skibelund Krat, which was once an important meeting place for pro-Danish North and South Jutlanders.