Kongeå sluice to Vilslev
7.5 kilometres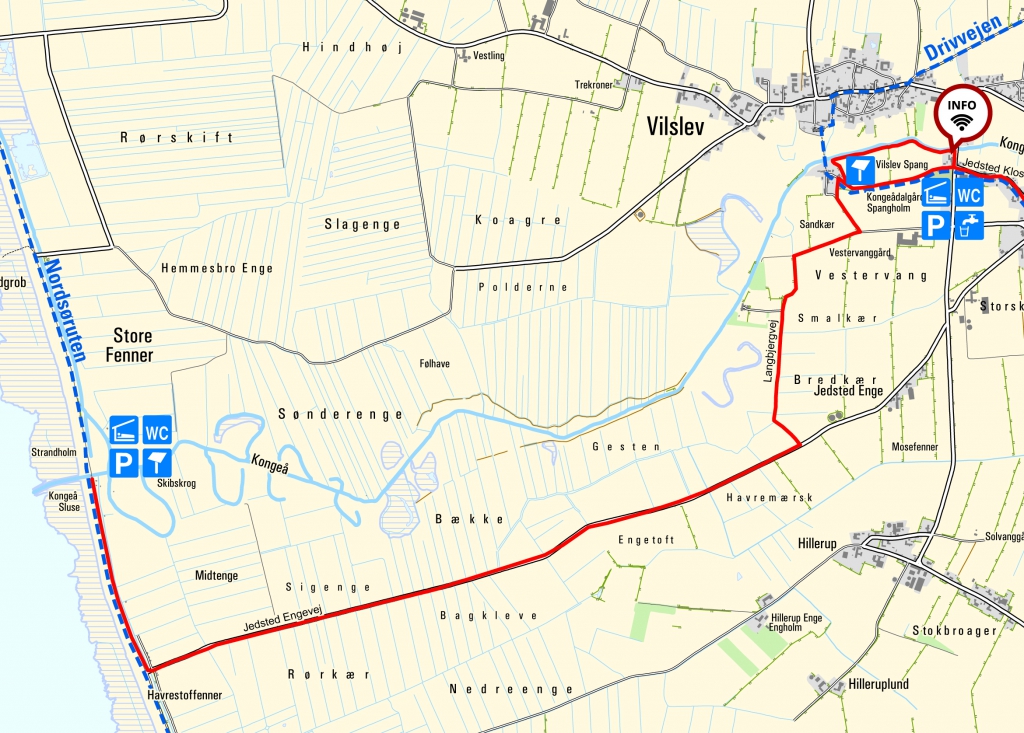 The Kongeå Path starts at Kongeå canal lock, from where you should head south down the road and then towards Vilslev.
By Kongeå canal lock, there is a shelter that does not have running water, but you have the possibility of camping out in the nature, and there is a toilet and campfire area at the site.
You can park your car either at Kongeå sluice or Vilslev by the shelter area.
The marshes
On the walking route into Vilslev, you will pass through unique marshland. The marsh landscape is characterised by diked marsh areas consisting of vast and flat agricultural land, which are bounded by dikes to the west and on the east by the geest-border.
Vilslev
Just before the shelter area, you arrive at the village of Vilslev, which is a cultural environment that is worthy of being preserved. Along with the wooden bridge over the river and the church, the village Vilslev has been designated as a cultural environment. In other words, the village reflects the essential features and elements of society's development. Vilslev lies on the geest-border, beyond the marshes, and is a beautiful example of the settlements along the Wadden Sea.
The village has slightly winding streets with small detached houses, smallholdings and three- and four-winged farms nestled between each other. The farms are well-maintained and well-preserved, and Vilslev is one of the few villages that do not have a commercial area, and where the more recent terraced houses fit into the village environment.
There are many fine old gardens, and between the buildings there are wonderful views of the marshes. In this way, Vilslev has retained its character as a village with close contact to the open landscape.