Bittersweet nightshade
- Poisonous as a green potato
Bittersweet nightshade is a very beautiful and eye-catching plant that grows in damp soil in the reed beds and among tall herbaceous perennials. Bittersweet nightshade belongs to the nightshade family along with potatoes and tomatoes. Although both potatoes and tomatoes are eaten in large quantities, the nightshade family are also known as being poisonous plants. All parts of the plant contain the toxic substances solanine and chaconine. When these toxins are activated by sunlight, it is primarily the plant's green parts that are poisonous. This also applies to potatoes that turn green from lying in the sun.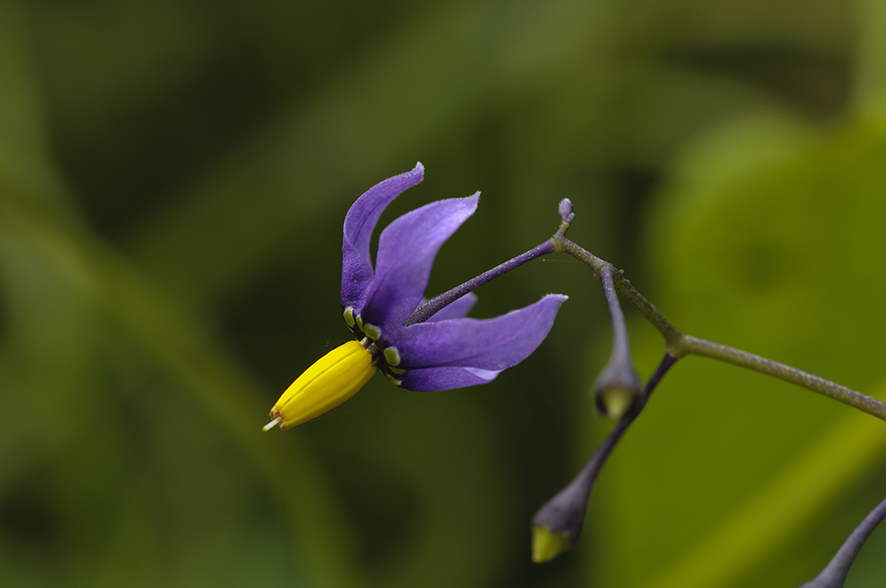 Young shoots taste bitter sweet
In spite of its toxicity, bittersweet nightshade is known as a medicinal plant. The plant's name describes the first bitter and then sweet taste, which is found in the plant's bark and new shoots. The name nightshade comes from the German "Nachtschatten" and probably alludes to the fact that the plant has also been used as a medicine against the disease "night damage" or "moonsick", which are old names for epilepsy. The plant was also used as a cure against a wide variety of diseases, such as rashes, ringworm, scabies, arthritis, cancer, eye diseases and deafness. Together with thorn apple and deadly nightshade, it was also used as a key ingredient in the manufacturing of witch's brew, and it was known for its ability to send witches to Bloksbjerg.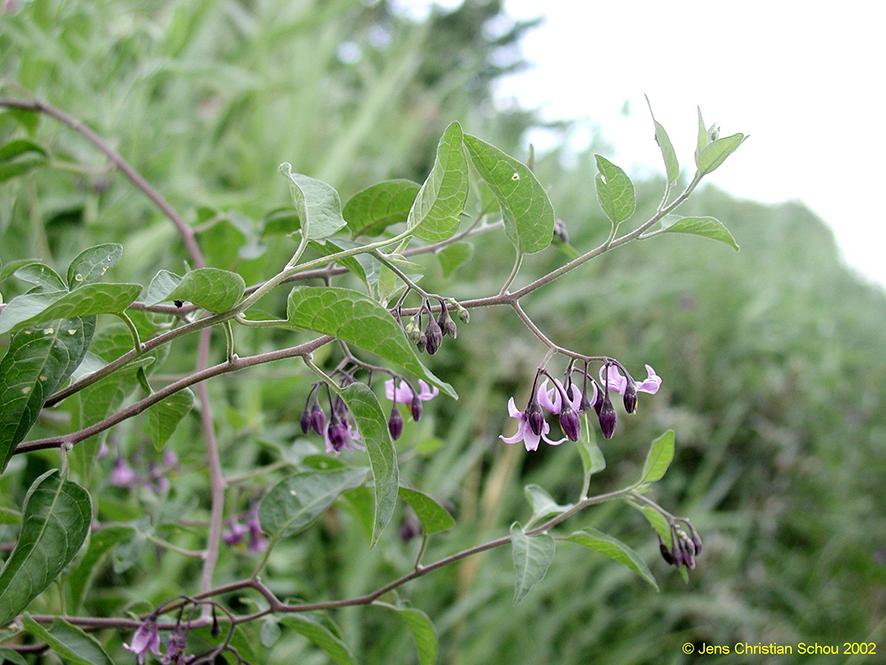 Facts: Height 30-180 cm. The plant is a climbing shrub that climbs on bushes, trees and tall places. The leaves are spear-shaped, the flower is purple with bent back petals and yellow anthers, which protrude like a cone in the middle of the flower. Blooms in June-August and in the autumn you can see bunches of drop-shaped bright red, shiny and limpid fruits. Grows in wet nutrient soil in scrub, reed beds, along watercourses and lakes. Is common throughout Denmark.